Horse Hay Steamer Hay 2 GO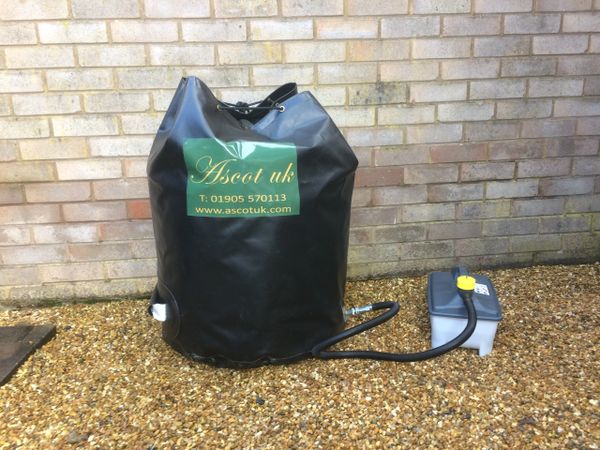 Horse Hay Steamer Hay 2 GO
Hay 2 GO -  is the New Hay steamer from Ascotuk.com
We are proud to announce Ascotuk.com has won an award for our Hay Steamers, Central England Prestige Awards 2020/2021 Winner for Horse Equipment Retailer of the Year.
For Delivery costs to Europe, USA and Canada please see bottom of page

Manufacture using food grade plastic which is FDA and CE Approved for heating up food.
The unit is 800mm x 600mm and is suitable for horses or Ponies
The Hay 2 GO is suitable for people going to shows, for people with minimal space or for yards where you are not allowed to have a steamer on site.
Simple fill up your hay nets or loose hay into the bag, put the baffle on the top and close the unit with the draw rope and literally carry to the car or lorry.  The unit is lightweight and made of heavy construction, no hay will come out of the unit once the baffle and draw string are pulled closed.
You can steam loose hay or hay nets.  This unit is great for taking to shows or for steaming your hay at home and taking to the yard.
The benefits of steaming hay are well documented and scientifically proven.
Equines with COPD are the most obvious benefactors.  The steaming process kills the fungal spores, hay mites and flushes out or damps down the dust particles which can be so problematic. Healthy horses can also benefit from this process in the following ways.
Prevention of the onset of respiratory allergies.

Reduction of aspirated dust partials, improving performance.

Some horses can become very fussy with poor quality hay.
They can often resume normal eating habits and retain condition which is lost in the winter months. (This is due to the hay becoming a lot more palatable)
The HAY 2 GO comes ready to use and complete with: -
One Year warranty De-scaling solution
Steam Generator with UK plug 
Steam Bag (made from Food Grade Plastic)
User Guide/ Maintenance Handbook
All Import Duties and Taxes  to be paid by the client in the receiving country 
 Delivery charges for Europe and Ireland
·         Southern Ireland £55.00
·         Jersey £40.00
·         Isle of Man £40.00
·         France £75.00
·         Germany £75.00
·         Netherlands £75.00
·         Bulgaria £75.00
·         Denmark £75.00
·         Poland £75.00
·         Czech Republic £75.00
·         Hungary £75..00
·         Belgium £75.00
Please be aware, sometime the prices can vary depending on the cost of courier company. 
·         USA, Canada and Australia  please click on the following link for delivery cost -https://www.ebay.co.uk/itm/Ascotuk-com-Horse-Hay-Steamer-Hay-2-Go/173870144384?hash=item287b77db80:g:owAAAOSwnVhaS6l4

We aim to deliver within a few days from order, pending the courier company.
Ascotuk © 2021. All rights reserved.
Reviews